Livio AI from Starkey Hearing Technologies  -  Launched 27 August 2018
*****Free no obligation 1 week trials available now*****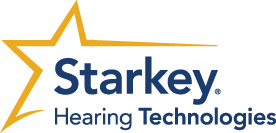 In 1967, William F. "Bill" Austin started a small hearing aid repair store. After dropping out of medical school in 1970, he purchased an ear mould company called Starkey Labs for $13,000.
Based in Eden Prairie, Starkey Hearing Technologies is still an American privately owned company but is one of the largest hearing aid manufacturers in the world. As of 2019, the company had more than 5,000 employees. It is the only American-owned global hearing aid manufacturer.
Following such good reviews from our peers, we had to start supplying this hearing aid from Liverpool Hearing Centre. This is one of the benefits of being a completely independent retailer - we can make sure we are always supplying the best of everything! Livio AI is "the world's first "Healthable" hearing aid to utilize integrated sensors and artificial intelligence and the first device to track physical activity and cognitive health as measured by hearing aid use in social situations.
The launch also included a brand-new mobile app called Thrive Hearing and three new wireless accessories, the Starkey Hearing Technologies TV, the Remote, and the Remote Microphone+. With the Remote Micorophone+, Livio AI is also the first hearing aid to feature Amazon® Alexa connectivity.
Livio AI monitors brain and body activity, provides heart rate* information, and can detect if you've fallen and send an alert to selected contacts. Using integrated sensors and artificial intelligence, the Starkey Livio AI hearing aid is a multi-purpose device that redefines what a hearing aid can do. Most fitness tracking devices use the wrist, but the ear is the ideal spot for reliable tracking, and Livio AI is the first-ever device to take advantage of that.
Livio AI also features easy tap control and can translate up to 27 languages. And if that's not enough, it's also Starkey's best sounding and best performing hearing aid ever.
Starkey Livio AI Hearing Aid Types & Styles
Currently, there are still no in the ear versions of the Livio AI. It's also worth noting at this point that there is a Livio version without the AI. These use all the same great hearing technologies but without the 'Healthable' features for a lower cost. In both the Starkey Livio and Livio AI versions, there is a small traditional behind the ear model and 3 types of more discreet receiver in the canal (RIC) models.
Starkey Livio AI Technology Levels & Prices
We are seeing 4 technology levels in the new range 1200 (Bronze), 1600 (Silver) 2000 (Gold) and 2400 (Platinum). The styles available are the RIC R, micro RIC 312, RIC 312 and BTE 13.
The Starkey Livio AI will be available in Liverpool Hearing Centre's Premium Product Range and the non-AI version will be in the Core product range.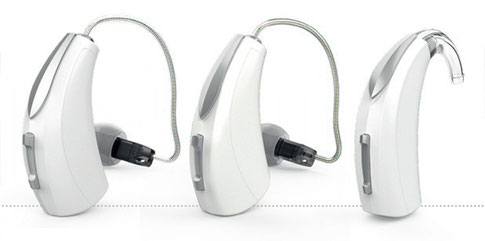 IS THE Starkey Livio AI HEARING AID RECHARGEABLE?
Livio AI rechargeable hearing aids are available only in the RIC R style and come with a charger. Livio AI hearing aids are the only rechargeable hearing aids enhanced with integrated sensors, artificial intelligence and Healthable™ technology.
Smallest Healthable rechargeable hearing aid
Delivers 24 hours of superior hearing on one charge
The only rechargeable Receiver-In-Canal hearing aids with telecoil, making it compatible with sound systems often found in places with lots of background noise, like a church or lecture hall
DOES THE Starkey Livio AI HEARING AID HAVE REMOTE PROGRAMMING?
Sometimes called eAudiology, remote programming essentially means that your hearing care provider can make changes to your hearing aids without you being required to visit the hearing centre. As part of the Thrive app, Hearing Care Anywhere means you can request adjustments from your hearing care professional who can then make them remotely so you don't need to make an appointment.
WILL THE Starkey Livio AI HEARING AID CONNECT TO MY MOBILE?
Livio AI intuitively connects to Apple and Android devices via Bluetooth® technology and Starkey's easy-to-use Thrive Hearing Control app. Thrive offers features designed to enhance your listening experience everywhere you go and help you to easily enjoy all you do.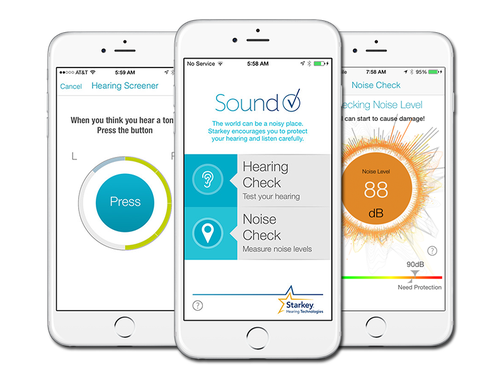 Starkey Livio AI Review
Rather than an overall review this time, we would rather just use the space to list all the other features this hearing aid has. Some of these won't be useful to everyone but just one might change someone's life. Wow is all we can say to a hearing aid this feature packed all for the same cost as any other hearing aid. It might have been released in 2018 but no other manufacturer has come close to providing all of this which is why we needed to start providing this product at Liverpool Hearing Centre. To arrange a free trial, please hit the button below.
Body and Brain Health Tracking
Sensors are integrated into the Livio AI hearing aids so you can track brain and body activity via the Thrive app.
Thrive app
You can conveniently troubleshoot hearing aid and accessory issues and ask questions such as, "How do I customise my hearing aid settings?"
Fall Alert
With integrated sensors, Fall Alert can detect falls and send alert messages to selected contacts.
Hearing Care Anywhere
Request adjustments from your hearing care professional who can then make them remotely so you don't need to make an appointment and stop in.
Self Check
Allows you to perform a diagnostic test of your hearing aid components.
Transcribe
It's like closed-captioning for real life. Conversations are transcribed so you can read what's being said in real time
Language Translation
Easily communicate with people who speak other languages via the easy-to-use translation tool in your Thrive app.
Personalised Control
Make personalised, real-time adjustments to suit your preferences in different listening situations.
Phone Calls
Answer your calls with the touch of a button and via Bluetooth technology you can hear an entire conversation streaming directly to your Livio AI hearing aids 
Personalised Programs
Create custom programs, including geo-tagged memories where your hearing aids will adjust automatically when you return to those locations.
Auto Experience Manager
Automatically adjusts your Livio AI hearing aids' loudness over time to help you transition to your new hearing experience in the most comfortable way possible.
Siri Integration
You can have Siri read texts and emails directly to your Livio AI hearing aids.
Find My Hearing Aids
Easily find lost hearing aids using the Find My Hearing Aids feature, with both a location and timestamp. A signal detector sends a stronger or weaker signal based on how close you are to locating your Livio AI hearing aids.