Signia Xperience Hearing Aid from Sivantos - Launched September 27 2019
*****Free no obligation 1 week trials available now*****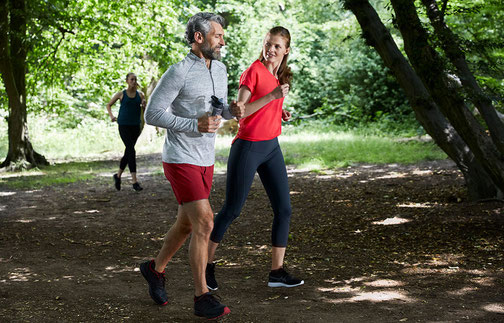 Signa's new Xperience platform has launched and it pairs acoustic sensors with built-in motion sensor technology. The combination allows the Xperience platform to offer hearing aids that are suited to an active lifestyle. Plus, hearing aids that are smaller and more powerful than Signia's previous Nx range. The new Xperience Pure 312 X and Pure Charge & Go X triumph improved directionality and deliver clear sound to the wearer especially when they are in motion.
Although the Signia brand only launched in 2016 the hearing aid company is built upon 140 years of hearing aid knowledge and experience. Signia's parent company now goes by WS Audiology encompassing the Sivantos Group but the company can be traced back to 1878 when the founder of Siemans started work on communications technology and transmission quality. In just a few years Signia has advanced to one of the top 3 hearing aid brands in the world and with 800 Research and Development staff it's not surprising they have sold 4.5 million units worldwide and thus proving their quality and authority in the market.
Signia and WS Audiology pride themselves on hearing excellence and delivering hearing aid management through innovative technology. Their new platform Xperience continues Signia's progress to deliver crystal clear hearing with new sound processing technology. Signia has also released a new Pure range putting the Xperience technology into practice, the Pure Charge & Go X and Pure 312 X. So what's new with Signia's Xperience platform? Xperience is the new chip Signia's aids have installed and they use a technology overall branded as YourSound. It is Signia's YourSound features that give new and improved quality. Feature one being the DSP (Dynamic Soundscape Processing) which provides a clear, natural sound from any direction due to its Acoustic Sensor and a Motion Sensor which is analyzing and adjusting to the hearing aid users surrounding environment and movement. Feature two, Signia's YourSound OVP (Own Voice Processing) feature adds the hearing aid user's voice into the sound mix in a natural way.
The YourSound features running off the powerful Xperience platform allow sound to be easily understood from any direction around the hearing aid wearer but also while the hearing aid wearer is in motion. Daily life involves changing between dynamic and quiet environments, stepping onto a busy street to go shopping, being in the quiet of home having a cup of tea and then out walking the dog. Signia's innovative technology focuses on sound in motion and has been developed to work with the contemporary active lifestyles many of us have today.
Signia Xperience Hearing Aid Types & Styles
You would be surprised at how many styles of hearing aids there actually are but product launches are usually limited to the smaller behind the ear models, then a power version is released for the more severely and profoundly deaf. Finally, the all in the ear models are released often up to a year later. Signia Xperience at the time of writing is only available in the small behind the ear types and will be extended into in in the other ear styles soon.
Signia Experience Technology Levels & Prices
We are seeing 3 technology levels in the new range 3X (Silver) 5X (Gold) and 7X (Platinum). The style available is the Pure 312 X and the Pure Charge & Go X will be launched on 11th November 2019. The Pure 312 TX (T-Coil option) is being launched on 2nd December 2019.
All Signia hearing aids fall into our core range at Liverpool Hearing Centre which means they represent great new technology and fantastic value.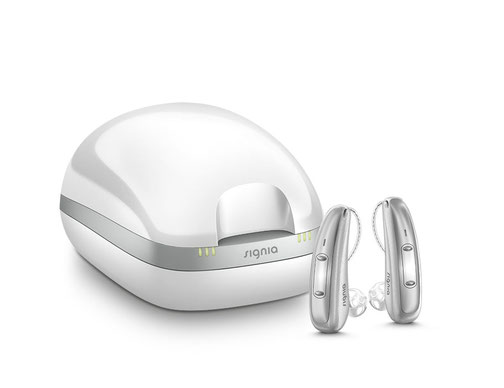 IS THE SIGNIA XPERIENCE HEARING AID RECHARGEABLE?
Signia's Pure Charge & Go X uses a rechargeable lithium-ion battery that is guaranteed for 5 years. The device is vastly improved on its predecessor the Nx as stats show it has 20% bigger capacity for battery life, meaning more hours of use for the same 3 hour charge time while still smaller than previous Nx Charge & Go. Signia still offers 6 hours of use for the 30mins quick charge feature. Plus, the charging case is thoughtfully designed to double as a dehumidifier combating the need for drying kits. Signia also impressed us by making this charger case back-compatible with previous rechargeable aids from their range.
DOES THE SIGNIA XPERIENCE HEARING AID HAVE REMOTE PROGRAMMING?
The power of the Signia Xperience chip and research with hearing care professionals and end users have pushed Signia to combine their 3 apps into 1, which is fantastic news for hearing aid wearers and audiologists. Through just one app users can now receive support from their audiologist or hearing care specialist with Telecare 3.0. The Signia App users can control their streaming functions such as music, phone calls, and TV. Plus the app allows users to control hearing aid volumes and programs. As standard these days the app and remote care can be accessed by both android and apple software. Last, but not least The Signia App, like the new charger, will be back compatible with previous Signia products.
WILL THE SIGNIA XPERIENCE HEARING AID CONNECT TO MY MOBILE?
The Xperience range of hearing aids all connect to android and iPhone by 2.4 GHz Bluetooth® technology. In addition, Signia's Pure X range has built-in Tinnitus SoundSupport™ and are compatible with popular accessories such as miniPocket, StreamLine TV and StreamLine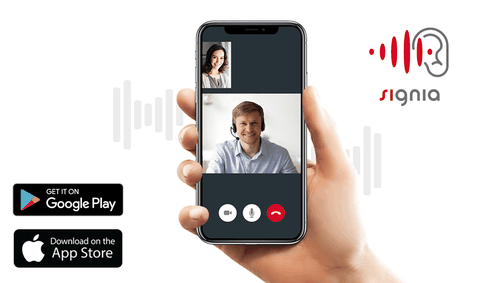 Signia Xperience Review
No one can deny the innovative design and technology Signia bring to the market. YourSound features running on the Xperience platform allows for price input while the DSP and OVP features optimise that input to deliver a natural sound experience. Furthermore, the ergonomic style of both the new Pure products is sleek and the Charge & Go device is surprisingly small and thin for a rechargeable compared to others on the market. Why don't you be the judge and take a pair out for a test drive completely free and without obligation?