Phonak Virto Marvel Hearing Aid Launch March 2020
Latest Hearing Aid from Phonak - Released March 2020
*****Free no obligation 1 week trials available now*****
Virto Marvel is the world's first custom hearing aid that allows hands-free phone calls as well as direct connectivity with Roger Technology,
Every Virto Marvel hearing aid is precisely custom made with a Biometric Calibration to fit your individual ear anatomy, by analysing and identifying more than 1600 biometric points to then calibrate it to provide a perfect and discreet fit, excellent hearing performance and high wearing comfort. It's also available in a stylish black finish.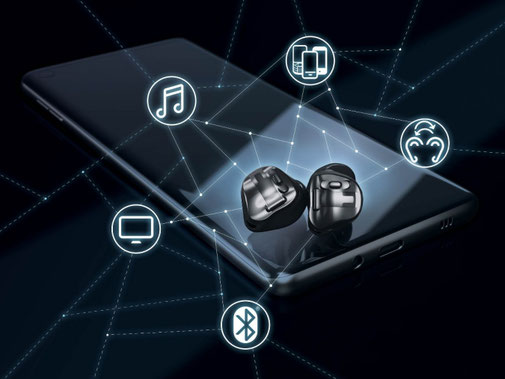 Phonak has been committed to innovative hearing aid research and distribution for over 70 years. It is a key part of the Sonova family and one of the largest hearing aid providers worldwide.
The latest launch brings new models to the Marvel family: Virto Marvel 312 and Naida Marvel SP. Below we discuss the Phonak Virto Marvel. Virto and Naida can now do everything in the video below.
When paired with a Roger accessory, Virto Marvel wearers can also experience up to 10x better-than-normal hearing in noisy situations and over distance by streaming the Roger signal directly into both ears.
Virto Marvel is the world's first custom-made hearing aid that directly streams from both iOS, Android, or virtually any other Bluetooth-enabled audio device. Virto Marvel boasts up to 16 hearing performance features that work together to help wearers connect with everyone everything in their life. Meanwhile, its microprocessor chip runs five wireless protocols at the same time including Bluetooth Classic, Bluetooth LE, Binaural VoiceStream Technology, Airstream Technology and Roger, providing the wireless connectivity that today's wearers expect.
With Virto Marvel, wearers can answer, end, or reject a phone call with a push of a button on the hearing aid while keeping their phone in their pocket or bag. On-board microphones allow wearers to use their devices as wireless headsets, resulting in hands-free conversations.
Phonak Virto Marvel Hearing Aid Types & Styles
The Phonak Virto Marvel is a custom hearing aid and comes in 3 different types - 2 non-wireless and 1 wireless version. Only the wireless 312 model comes with all the lovely connectivity. They are all in the ear but with two different sizes available - 10 and 312.
Phonak Virto Marvel Technology Levels & Prices
We are seeing 4 technology levels in the new range 30 (Bronze), 50 (Silver) 70 (Gold) and 90 (Platinum). The styles available are the Virto M 312, Virto M 312 NW, the Virto M 10 NW, and it's available in 7 different colours.
There is also a tiny titanium version that only comes in at the two top technology levels. It's small size and deep fitting prevents it from having any connectivity.
All Marvel 2.0 products will be available in Liverpool Hearing Centre's Premium Product Range.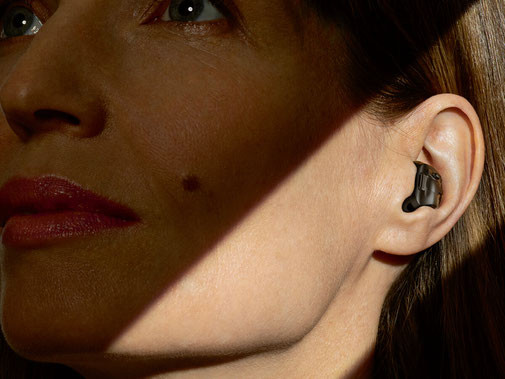 IS THE PHONAK VIRTO MARVEL HEARING AID RECHARGEABLE?
The rechargeable option isn't yet available within any custom hearing aids although we are expecting something from the manufacturer, Starkey very soon. Phonak Virto Marvel is only available as a battery operated hearing aid, with two different sizes.
DOES THE Phonak Virto Marvel HEARING AID HAVE REMOTE PROGRAMMING?
Sometimes called eAudiology, remote programming essentially means that your hearing care provider can make changes to your hearing aids without you being required to visit the hearing centre. Phonak have it available across all their hearing aid range and can be used from the myPhonak app. Remote programming, has many advantages, the biggest being live programming in an environment that your actually in rather than attending a hearing centre or clinic.
WILL THE PHONAK VIRTO MARVEL HEARING AID CONNECT TO MY MOBILE?
Only the size 312 wireless version of the Phonak Virto Marvel will enable you to connect effortlessly to either iOS or Android smartphones or other Bluetooth devices, keeping you connected to your phone calls, TV, messages, emails and numerous apps. With a TV connector you can enjoy your TV programs, and due to the AirStream technology, you can use your hearing aids as streaming devices to any stereo system, TV, music, e-books, podcasts etc.
There are also available free Apps to control your hearing aids from your phone that can enhance your overall experience.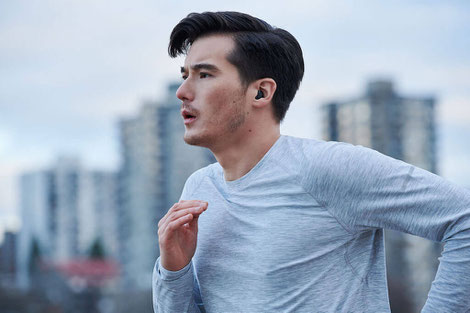 Phonak Virto Marvel Review
Phonak is offering an exceptional sound quality from the first fit, with the new AutoSense OSTM and Binaural VoiceStream Technology, Virto Marvel is automatically, recognising and adapting to more listening situations than previous Phonak aids, and therefore allowing better speech understanding and less effort in noisy environments.
With the wireless model, you could look at Virto Marvel as like using wireless headphones, but possibly better as it can automatically distinguish between music and speech signals, this hearing aid will adjust itself providing you the best sound quality for every occasion.
Liverpool Hearing Centre recommends the black version of the wireless 312 model. They look more like a pair of Bluetooth wireless earphones but they can do so much more. If you still want them to be tiny and hidden away then you will lose all the lovely connectivity but they'll still sound fantastic.